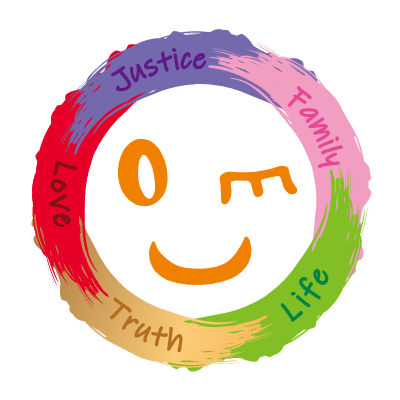 The logo comprises Core Values in Catholic Education in the Diocese of Hong Kong, namely, Family, Life, Love, Truth and Justice.
The logo features the five colours of the liturgical year of the Catholic Church.
Purple symbolises anticipation; we look forward to Justice
Pink symbolises joy; there is joy in the family
Green symbolises life; when there is life, there is hope.
Gold symbolises glory; glory belongs to Jesus Christ – He is the way, the truth and the life.
Red symbolises love and sacrifice; love is the greatest of all virtues.
標誌包含了香港天主教教育的五大核心價值,即家庭、生命、愛德 、真理和義德(公義)。
標誌顏色採用了天主教禮儀年曆的五種顏色。
紫色代表期待, 期待義德(公義)
粉紅色代表喜樂,樂在家中
綠色代表長青,表達生命及希望
金色代表光榮, 光榮屬於耶穌基督,祂是道路、 真理 和生命
紅色代表愛和犧牲,表達愛德